Aukua

MGA2510

Analyzer

The Aukua MGA2510 Ethernet Protocol and Monitoring Analyzer is a stand-alone 1U chassis system providing visibility, validation and debug analysis capabilities for R&D, Test and Network Support engineers building and deploying Ethernet based IT, storage networking and communications systems.
Inline packet capture, L1 (PCS layer) bit capture, protocol analysis, and latency monitoring analyzer

Supports 10M to 10GbE rates including the first to support IEEE 802.3bz 2.5GBASE-T and 5GBASE-T Ethernet

First and only inline analyzer to support native copper 10GBASE-T! No need for troublesome media converters!

Now supporting Automotive Ethernet visibility, packet capture and impairments!

Low latency inline (pass-through) operation
Supported Interfaces
• 10GBASE-T, 5GBASE-T, 2.5GBASE-T Ethernet
(NBASE-T and IEEE 802.3bz support)
• 10GBASE-R, 5000BASE-R, 2500BASE-R
• USXGMII - 10.3125Gbps
• 5000BASE-X, 2500BASE-X, 1000BASE-X, 100BASE-FX
• 1000BASE-T, 100BASE-TX and 10BASE-T Ethernet
• Automotive Ethernet: 100BASE-T1 and 1000BASE-T1
(IEEE 802.3bw and IEEE 802.3bp)

Performance
• 100% line rate L1 bit (PCS layer) or L2+ packet
(MAC layer) capture and protocol analysis
• Industry's largest capture buffers
• Nanosecond precision timestamps
• Low latency, non-retimed pass-through mode
• Hundreds of protocol decodes

Flexibility and Simplicity
• Intuitive browser-based user interface
• Comprehensive API for automation
• Measure one-way latency on application traffic
• User customizable capture filters and triggers
• Analyze bandwidth by protocol, CoS, addressing,
port number, and much more
• Optional Ethernet Traffic Generation or
Network Impairment Emulator modes

MGA2510 connects
transparently
inline with any system under test or monitor.
Optionally connect your MGA2510 out-of-band with TAP devices.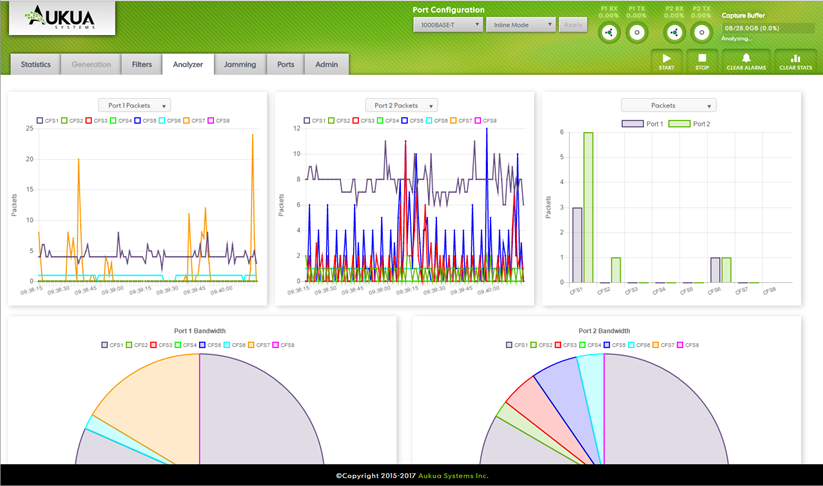 HTML5 GUI (no client software to install)
Automation through RESTful API