Aukua Delivers Industry's First 32G Fibre Channel and 25G Ethernet SAN Delay Emulator
Posted by Aukua Systems, Inc. | September 28, 2021 9:58:30 AM
Aukua's Device is the First to Enable FC-32G End-to-End Testing of Storage Network Solutions, Disaster Recovery and Business Continuity Applications.
Austin (Texas, USA) September 28, 2021 - Aukua Systems, Inc. (https://www.aukua.com), a leading provider of precision Test and Monitoring solutions, today announced the release of their Fibre Channel and Ethernet SAN Delay Emulator which is the industry's first in providing 32G Fibre Channel (FC) support. This groundbreaking solution is delivered on Aukua's XGA4250 hardware platform featuring true line-rate performance and supports a RESTful API allowing full automation capabilities.

"In recent months, we have seen an increased demand from both storage network equipment makers and organizations that are developing and deploying these new high speed 32G FC storage networks. Our team has developed the functionality to meet that demand and we are thrilled that we were able to leverage our new XGA4250 platform to rapidly deliver this important solution to our customers within the promised timeframe," said Jason Nutt, Aukua's Co-Founder and President.

Aukua's delay and network impairment emulators are used to reduce risk, ensure business critical application performance and prove disaster recovery plans with real-world emulation of network characteristics and scenarios. This new product marks not only an industry-first with 32G FC support, but adds to the suite of precision test and monitoring solutions from Aukua. Aukua's MGA2510 and XGA4250 platforms offer a unique 3-in-1 test and monitoring platform that can operate as a powerful traffic generator and analyzer, connect transparently inline as a protocol analyzer and traffic monitoring system, or as a network impairment and delay (WAN) emulator.

"This new capability delivers huge benefits to our customers utilizing 32G FC; allowing them to test their fibre channel products, storage area network solutions, and implementations against real-world conditions that until now have been unavailable." said Laky Hothi, Director of Aukua's UK-based partner, GCH Test & Computer Services Ltd. "It is imperative to test FC business continuity and disaster recovery applications like synchronous replication with real world impairments thoroughly before they are deployed to support mission critical networks like financial services and high performance computing." Hothi added.

Aukua ships the 32G Fibre Channel and 25G Ethernet SAN Delay Emulator this month to customers worldwide. "This is a great accomplishment for the team at Aukua, having just this summer completed the release of the XGA4250 platform. It is impressive to see this important feature-set delivered just months following." stated Mr Hothi.
Learn more about Aukua's Fibre Channel and Ethernet SAN Delay Emulator solution here: Fibre Channel and Ethernet SAN Distance Emulator.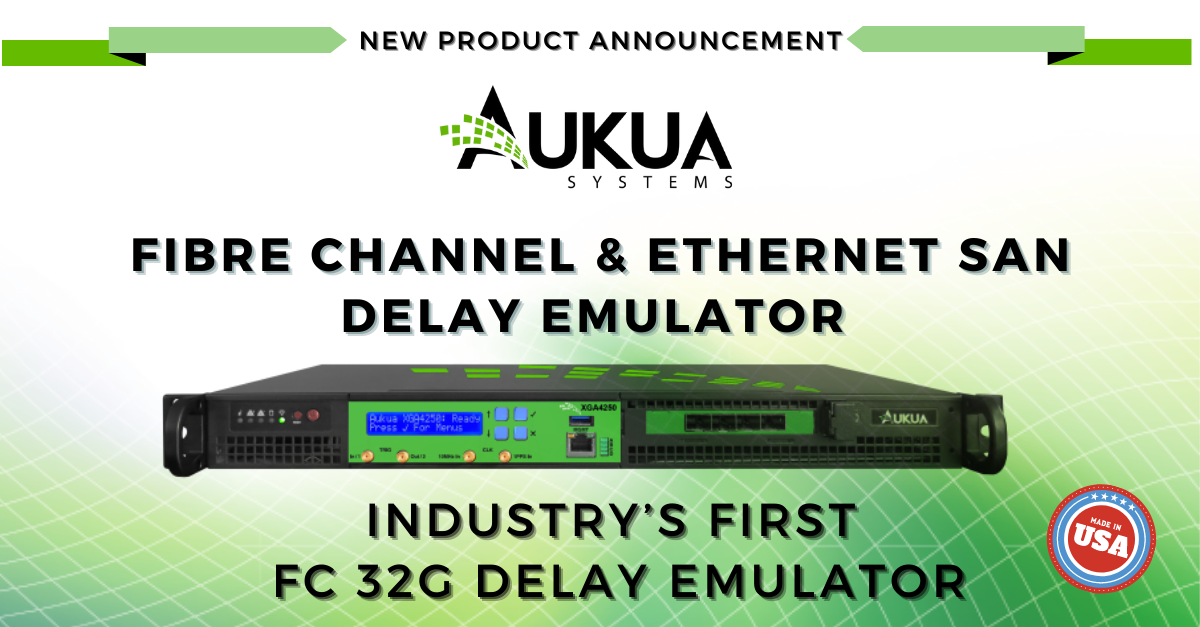 ABOUT AUKUA SYSTEMS
Aukua Systems builds world-class high-performance test and monitoring solutions which are powerful, affordable and easy to use. Aukua's worldwide customers include network equipment manufacturers, semiconductor companies, government agencies, enterprises, telecom service providers and mobile operators. Aukua Systems is based in Austin TX USA, where all Aukua solutions are designed, engineered, manufactured and supported. To learn more, please visit www.aukua.com.